The adirondack chair is a classic piece of American furniture. Named for the Adirondack mountains, adirondack chairs are known for their deep seating angles and beautifully curved backs. Nowadays, you can find premium quality adirondack chairs made in the USA with durable materials online. 
We specialize in selling premium composite adirondack chairs from the top manufacturers in the country. We also offer FREE shipping on all of our orders to the continental United States.
Check out our best picks for adirondacks in 2021.
The Most Durable Material for your Adirondack Chairs
Monarch Patio's furniture is made with durable, poly lumber. Poly lumber is a super strong, composite material made with recycled plastic milk jugs. Though it maintains the look and feel of a traditional wood, it retains many benefits over traditional wood.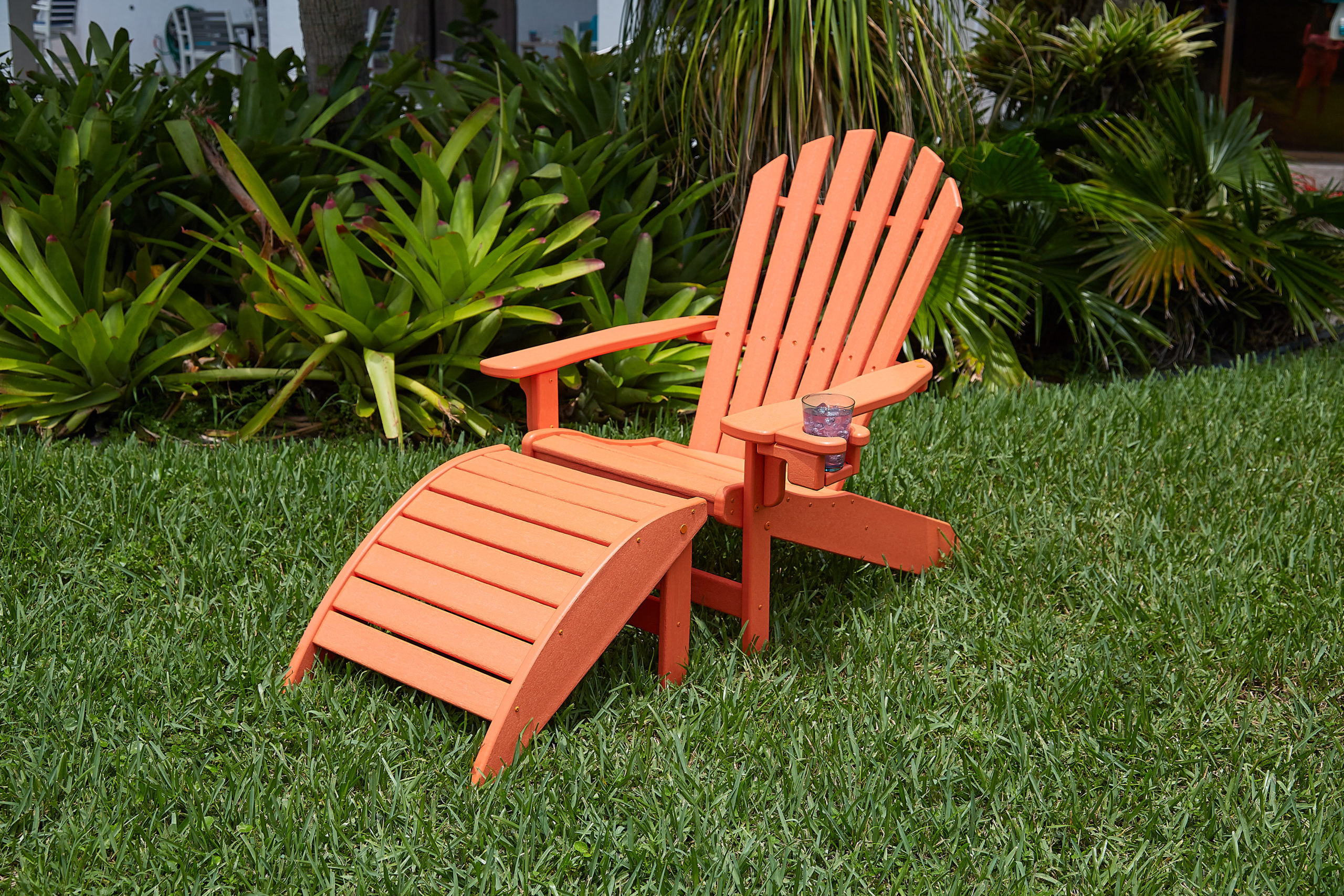 Poly lumber is much more durable than traditional wood. You'll be able to leave your adirondack chairs outside by your fire pit year-round without having to worry that they'll be rotting and falling apart by the time you get to them next spring. And in the summer, there's no need to cover them with furniture covers; our manufacturers UV-protect their poly lumber to prevent any fading, even when left in direct exposure to the sun. 
Many of our products come with warranties ranging from 20 years to lifetime!
Poly lumber is easier to maintain; it doesn't require any painting or sealing to stay looking great. 
Read more about poly lumber here.
Best All Around Adirondacks
Our pick for best all around adirondack chair goes to Wildridge's Heritage Adirondack Chair. In addition to being made with ultra-durable poly lumber, Wildridge uses marine grade stainless steel fasteners to prevent rusting, further lengthening the lifespan of their furniture. 
This adirondack comes in a multitude of colors. We love to see customized, two tone options. Choose one color for the frame and another for the seat slats, back slats, and arms. White, black, or tudor brown are excellent choices for your frame, but all of Wildridge's curated colors look awesome.
With durable poly lumber, this chair is waterproof and extremely well suited to even the harshest climates. It can stand up to the hot, beating sun, coastal humidity, and freezing cold snow.
At $363, the Heritage Adirondack isn't the cheapest, but it will out-last pretty much any other chair on the market. Wildridge includes a 20 year residential warranty on all their products, so there's no need to worry about replacing this chair for years and years to come. In the long run, paying up for a good quality adirondack chair will be well worth the money.
This chair also comes in a folding version.
Another Wildridge chair, this classic style adirondack features wide back slats that gracefully curve for a stylish look. These water-impenetrable chairs weigh in at 37 pounds; they won't blow away in the wind, yet are still light enough to move around fairly easily. 
Based in Berlin, Ohio, Wildridge makes their furniture with 95% recycled plastic milk jugs. In addition to using eco-friendly material, Wildridge is based in the world's largest Amish community and employs talented Amish craftsmen in the production of their adirondack chairs. 
A few of these chairs are awesome choices to go with a fire pit. Pair them with a few ottomans or side tables, and you'll be all set with the perfect outdoor space.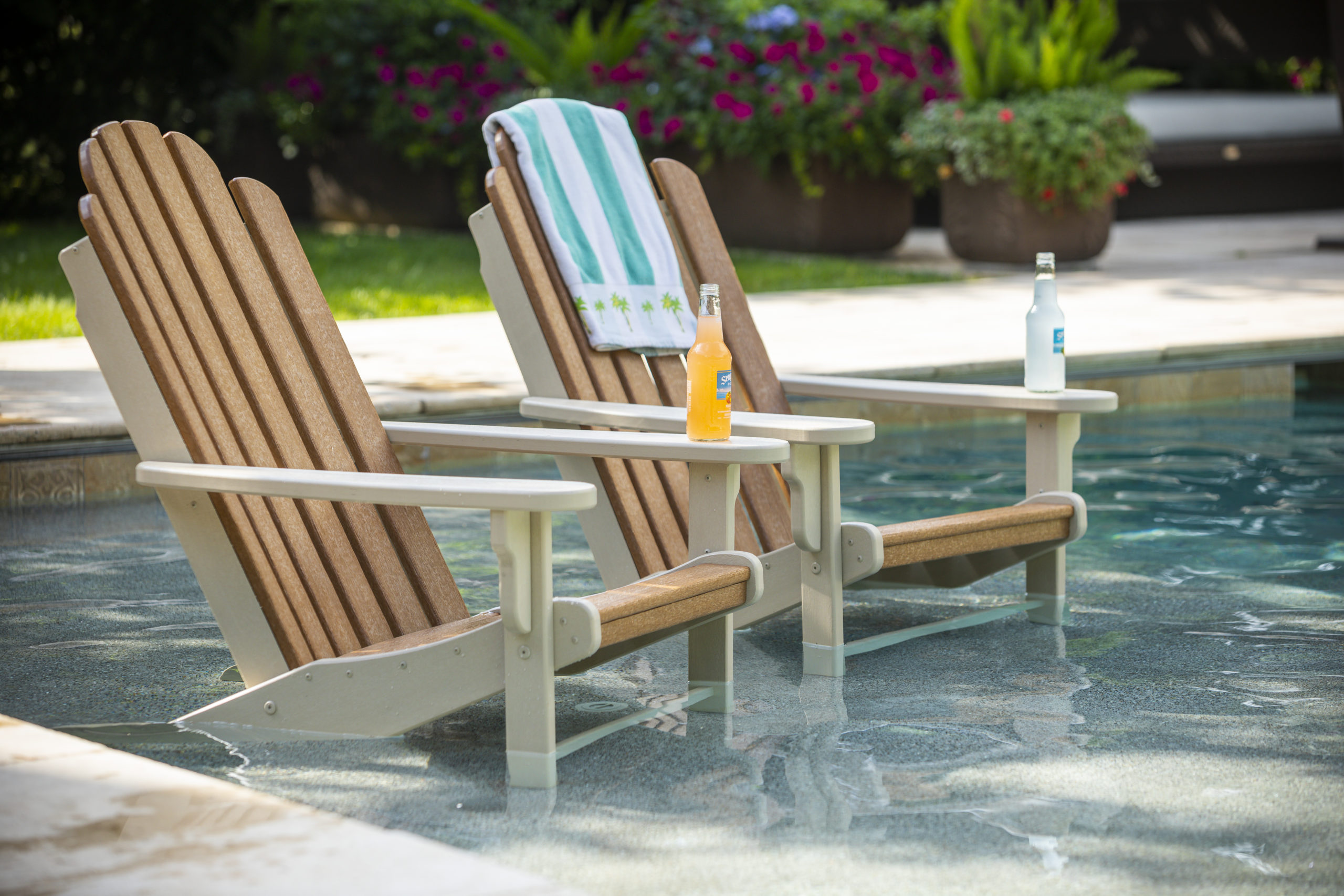 Based in New Holland, Pennsylvania, Breezesta is a leading manufacturer of outdoor poly furniture. 
Their Shoreline Adirondack Chair is one of our most popular items. With an extraordinary range of bright, vibrant colors, this chair can be customized to perfectly match your patio or backyard. 
The Shoreline Adirondack also has a classic, adirondack style. It's versatile enough to fit your backyard with ease and has a sturdy, durable feel to it; you will know it's ultra-high quality as soon as you sit down in it. 
Breezesta's furniture will last forever. All of Breezesta's furniture comes with a limited lifetime warranty so you can be sure that you won't need to replace your adirondack chair ever again. 
The use of strong poly lumber means you'll never have to worry about cracking, splintering, rotting, or re-painting. Outdoor furniture should be easy to maintain so that you can spend more time enjoying it than you do taking care of it!
Breezesta's Fanback Adirondack chair is a slightly different take on the traditional adirondack style. Comparable to Wildridge's Heritage Adirondack chair, the Fanback has 7 gently curved back slats, comfortable and stylish arms, and a luxurious seating angle that will make you want to spend every evening outdoors. 
This chair is a bit heavier than the others on the list, weighing in at 49 pounds. This heavy duty adirondack chair is a great choice if you live in a particularly windy or harsh weather climate. It's available in all of Breezesta's color options, which range from bright and fun to deep and high-end looking.
Breezesta also uses durable, stainless steel hardware in their chairs. Further, to mask the screws on their chairs, they match the head of the screw to the color of your chair! From a distance, you won't even be able to tell that this chair has any hardware on it.
Of course, this chair also includes a limited lifetime warranty through Breezesta.
Who says that awesome adirondack chairs need to cost an arm and a leg? Wildridge's Freedom Collection is the BEST option for shoppers on a tight budget. At just $169, these chairs are a real steal. 
Available in several different colors and styles the Freedom Collection's adirondack chairs are great for any patio, fire pit, or front porch. 
This chair has a contemporary, minimalist style with three large back slats and large arm rests. It also features a nicely sloped seat and back angle that make it extremely comfortable. 
Perhaps the modern style adirondack chair isn't your style? Wildridge also offers a traditional version of their Freedom Collection adirondack chair. The traditional version has 5 curved back slats and features the same comfortable seating angle that's found in WIldridge's other adirondack chairs.
Weighing in at 30 pounds, this chair has a sturdy feel and won't blow away in the wind. 
Best of all, Wildridge's Freedom Collection items include a 20 year residential warranty, just like the rest of their poly lumber furniture!
Contemporary style adirondacks can be harder to find, but Breezesta's Contemporary Adirondack Chair is an awesome choice for modern patios and backyards. Its four back slats give it a minimal, modern vibe. 
This adirondack is also super easy to maintain. If it gets dirty, all you'll need to do is wipe it down with some dish soap and water. It couldn't be easier!
All of our adirondack chairs come in partially assembled kits that are easy to put together. 
Wildridge's Contemporary Adirondack Chair is another modern style resin adirondack that is ultra durable. This chair also has four wide back slats and comes in at 53 pounds, making it one of the heaviest on our list. With a seat width of 24" and a seat height of 16", this chair is extra comfortable. 
The Contemporary Adirondack actually works quite well with other furniture styles as well, including Wildridge's Classic Side Table.
We really love this chair in Patriot Blue, shown above. But if that isn't your cup of tea, Wildridge has plenty of other color options to choose from. With UV-protection, Wildridge's poly lumber won't fade in the sun, either, so your adirondack chair will keep its color for many years. 
Two seater adirondacks are a great place to spend time with family and friends. These options pair well with our single adirondack chairs in a patio or around a fire pit. 
Wildridge's Heritage Double Adirondack Chair is a great option for seating two people and goes well with any of Wildridge's Heritage items, including their Heritage Adirondack chair. This chair is also available with two tone, customizable options. 
It measures at 54" wide, so make sure you have the space for it before opting for this double seater adirondack. The chair weighs in at 80 pounds, so you may also want to consider it if you live in windy areas. 
If you prefer more of an upright style, this Breezesta Coastal Bench might be what you're looking for. Compared to Wildridge's Double Adirondack's seat height of 15.75", this Breezesta piece has a seat height of 17" and also weighs in at 80 pounds. 
Ultimately, it comes down to the style of outdoor space that you're trying to achieve. Both are great options for seating two people but have very distinct looks and feels to them.
Though this chair sits higher than the traditional adirondack chair, it has a wonderful curved back that's similar to Wildridge's Classic Adirondack chair, mentioned above. This chair is extremely versatile and can be used as an outdoor dining chair or a chair around the fire pit. 
Breezesta's Coastal upright Adirondack features narrow, upright legs but still keeps the classic, angled seat of the classic adirondack style. Throw a few of these chairs in with a couple of other Breezesta adirondacks, and your patio will look like it was professionally designed. With their more upright stance, these chairs also work great as dining chairs or general purpose chairs for your deck.
Part of Wildridge's Heritage set, this tall adirondack measures in at 44" tall and works great as a high dining chair or just as a place to relax. It also features a comfortable footrest and generous arm rests, making it one of the most comfortable tall adirondacks on the market. 
We love to pair this item with Wildridge's Heritage Balcony Table to create an awesome outdoor set.

This cute, mini-sized adirondack chair is the perfect complement to Wildridge's Heritage Adirondack. It makes a great gift for kids and grandchildren and is very well suited for kids. Because it doesn't splinter or crack, there's no worry about your child accidentally hurting themselves.
Wildridge has lots of fun and exciting colors to choose from that your child will love.
Also, this chair is spill-resistant! Because of poly lumber's waterproof nature, it won't absorb any liquids or food that is spilled on it, and you can easily wipe it down if your child makes a mess. It's also lightweight and easy to move around… we consider it to be the ultimate kids adirondack out on the market. 
---